Second World Telugu Confrerence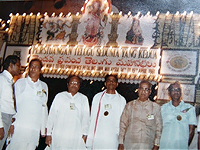 As per the conclusion of the first world Telugu conference, the Govt. of Andhra Pradesh decided to hold the second world Telugu conference in Malaysia. This was held from April 14-18, 1981 in the Malaysian capital of Kuala Lumpur. This conference was jointly organized by Govt. of AP, International Telugu organization and Telugu Association in Malaysia.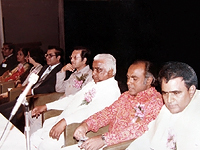 The conference was attended by then Hon. Chief Minister of Andhra Pradesh Sri. Tanguturi Anjaiah, Minister for Culture, Sr. Bhattam Sri Rama Murthy, other ministers, officials and dignitaries. On the first day, the Hon. Chief Minster presided over the function and then Prime Minister of Malaysia. Dr. Mahathi Bin Mohammed attended as the Chief Guest. Many eminently renowned artists, language experts, research critics, poets attended the five day event from Andhra Pradesh, other parts of India and from around the world. Besides from them, the eminent Telugu people living in Malaysia also contributed immensely.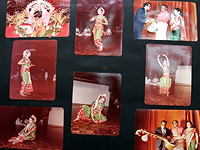 During the mornings and afternoons, the local people were treated with some excellent debates, recital of poems. On this occasion, a photo exhibition was organized titled "Telugu Nation through Generations'. The exhibition highlighted the historical events, structures of Telugu nation. The exhibition also depicted the photos of Telugu People who migrated and settled in Malaysia over many generations. The photos reflected the love and affection the ancestors had for Telugu language and its culture. Many cultural programmes were organized in the evening wherein, besides the Telugu artists, many Malaysian artists performed their cultural programmes.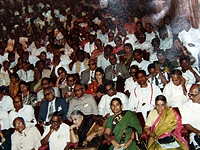 Addressing the conference the then President of India, Hon. Dr. Neelam Sanjeeva Reddy said "We need to respond to the love and affection showered by the Telugu people living abroad", these words gave a lot of inspiration to the conference. Sri. Mandali Venkata Krishna Rao, who played a key role during the first world Telugu conference and Dr. P.S.R.Apparao, Manager, International Telugu organization played a crucial role in shaping up the conference and it a make it a huge success. From the other side, the president of the Telugu association in Malaysia Dr. C. Appa Rao, Gen. secretary Sr. Madini Somaya Naidu, secretary Sri. A. Appanna, other local distinguished personalities, fans of the language helped immensely in organizing the event. A special magazine was launched during the conference. The conference received unprecedented response from different parts of the world, and many Telugu people from countries such as Mauritius, Fiji, South Africa, and Sri Lanka attended the conference. This conference has taken the name, fame and reputation of Telugu nation a notch higher around the world.